The Abyssal OS Overlay is a software-based HD Digital Video Overlay, Media Gallery and Digital Video Recorder.
It offers an intuitive and totally configurable HD Digital Video Overlay that superimposes telemetry, text and graphics on top of real-time video, coupled with a Media Manager for screenshot and image management, with an optional Digital Video Recorder system.
The software based nature of Abyssal OS Overlay allows it to recognize and convert every type of telemetry and video formats, making it the most comprehensive system in the market.
Abyssal OS Overlay is already prepared to be scaled up and used as an interface with the Abyssal OS, the most advanced Visualization System for ROVs currently in the market.
Features
With which you can always count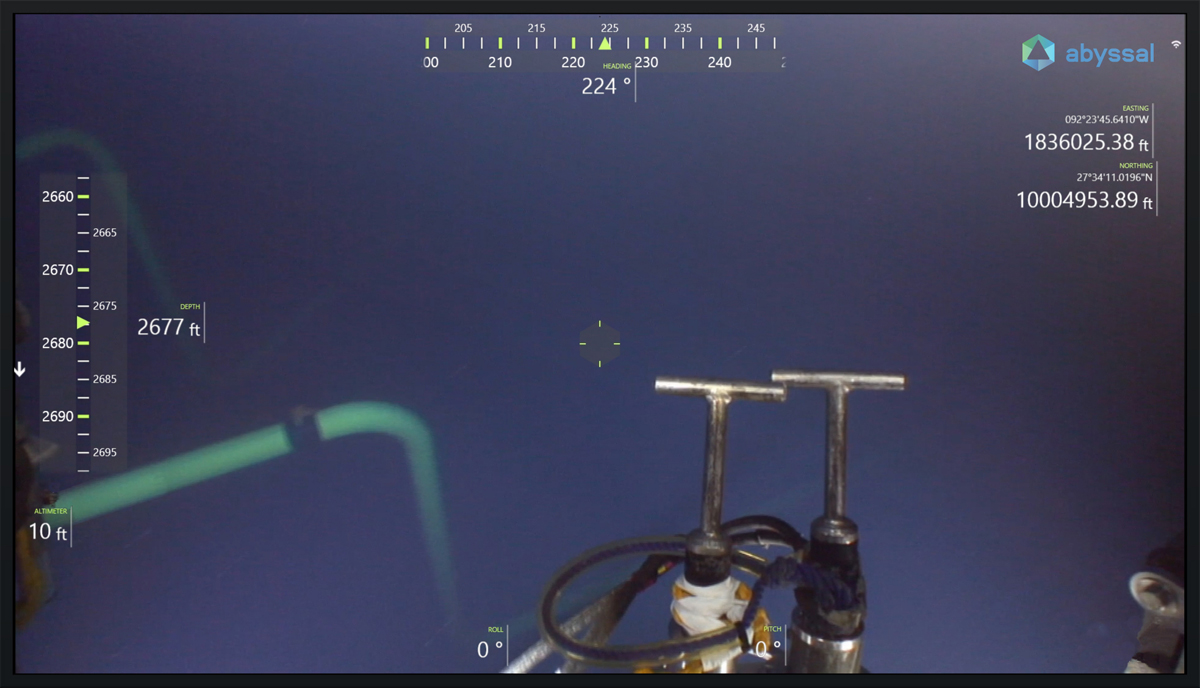 Camera Viewer
Video with real time telemetry overlay in different visual formats (textual or graphic).
HD video up to 1080p, 60fps.
Up to 4 configurable HD video outputs.
Simple and intuitive real-time write, erase, drag and drop interface.
Create, select and import/export multiple worksites, missions and overlay profiles.
Auto-configurable telemetry input, compatible with every System/ROV.
Supports both Ethernet and Serial connections.
Media Gallery
Take screenshots of selected monitors with and without telemetry.
Easy search, selection and management of screenshots.
Dive Log
Create mission reports for your ongoing missions.
Fill and edit important details such as dive number, title, supervisor, ROV and Vessel.
Add entries to your Dive Log, edit the description and add tags to better organize events.
Revisit later a Dive Log by selecting its worksite and mission.
Export the report as a portable HTML5 page and review it in any web browser.
Additional Features
Add more tools to better complete your needs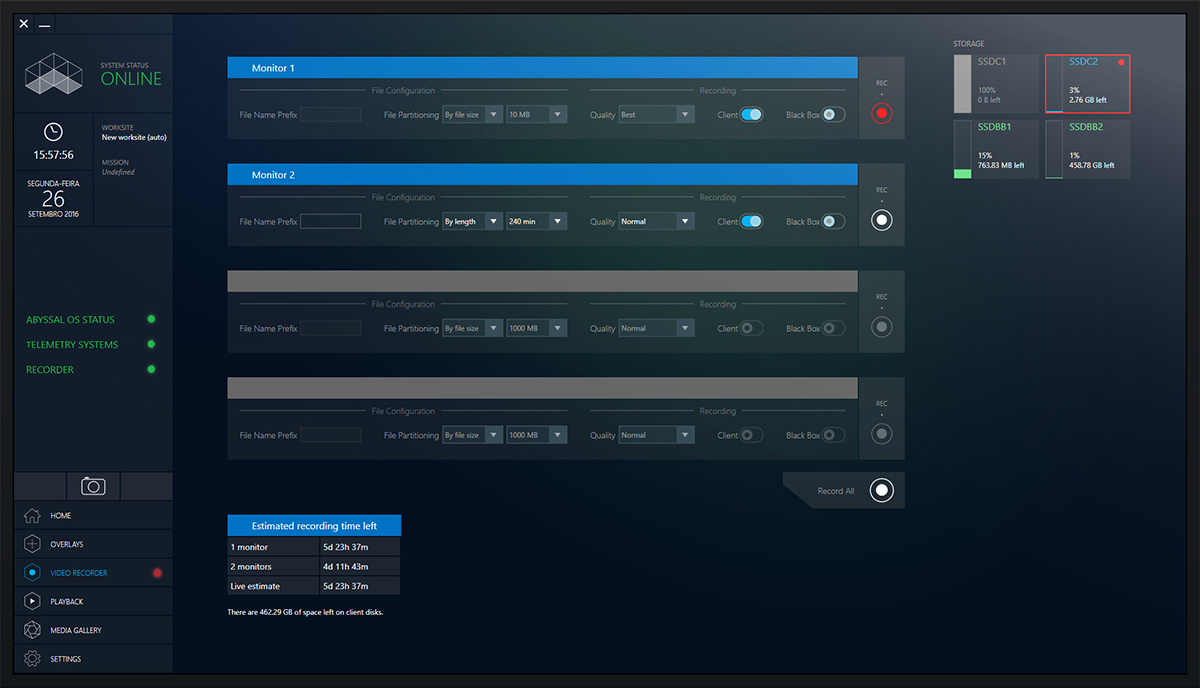 Digital Video Recorder & Playback
DVR allows you to record up to 4 monitors, directly onto the connected SSD Disks.
Find a list of connected monitors, disks and available disk space.
Configure recording quality, record on Client disks and also store a duplicate copy in the Black Box disks.
Technical Specs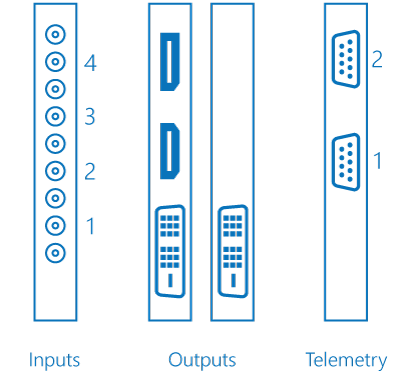 Video Inputs
Connect each of the 4 BNC cables to your video sources, and the mini-BNC terminator to the desired video input port in the Abyssal system.
SD Format Support
625/25 PAL, 525/29.97 NTSC.
HD Format Support
720p50, 720p59.94, 720p60, 1080p23.98, 1080p24, 1080p25, 1080p29.97, 1080p30, 1080i50,
1080i59.94 and 1080i60.
SDI Compliance
SMPTE 259M, SMPTE 292M, SMPTE 296M
Video Outputs
Choose between HDMI or SDI-BNC*
Telemetry
Inputs via RS-232 or Ethernet
*HDMI to SDI Converter required