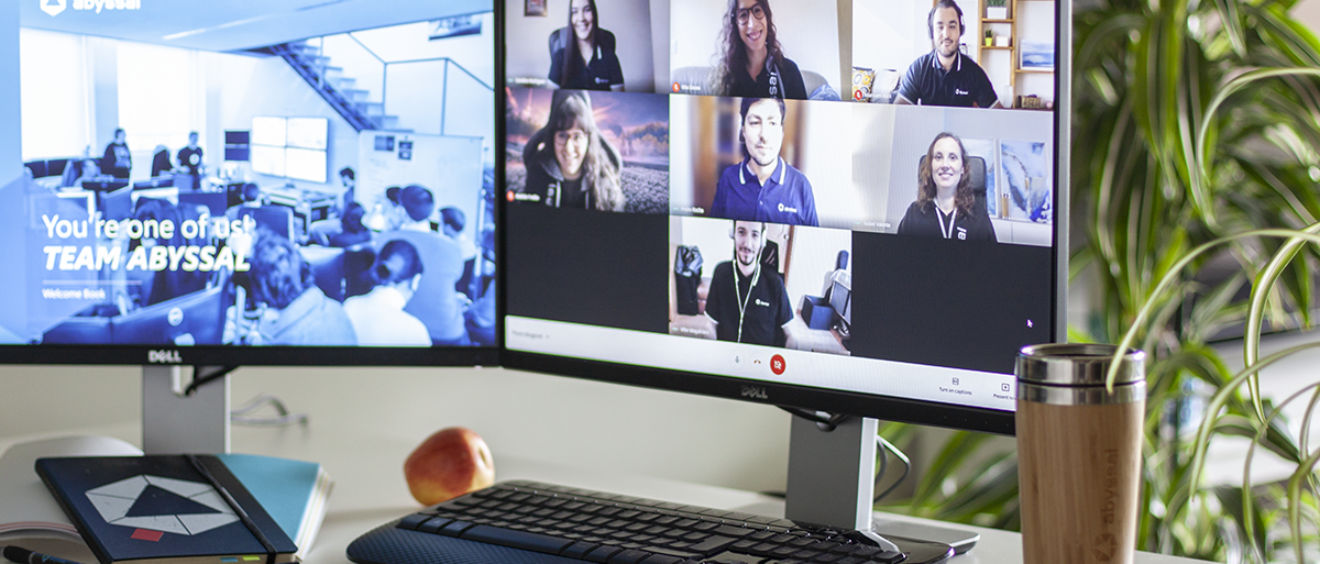 Onboarding and COVID-19, how we cope with it

A year ago I started my journey in Abyssal. Passionate about meeting new people, I was really excited about this opportunity.

I remember my first day very well. The Welcome Pack, carefully prepared (I could feel the love that was invested in it) was waiting for me on my desk. The Welcome Book had all the information I needed and I was already a part of Abyssal's history (my picture was there ☺️ ). It all made me feel really welcomed. All the necessary material, like the computer and gear, was also there (as well as some cool extras), so I had everything I needed to start working.

During my first month I focused on two of my top priorities:
prepare, implement, and monitor an annual recruitment plan;
manage and actively monitor the onboarding process.
I started by exploring recruitment platforms, there are a lot of choices out there, but we needed to choose the one that would best fit our needs.

The next step was to structure the recruitment process. We wanted to keep it simple and fast. The balance between the time invested into finding the right person but not wasting too much of our, and the candidate's time, was a major concern. So we decided that a technical screening of the CVs and a face-to-face interview (technical and cultural) should be enough, and if it wasn't, we would do a second round of face-to-face interviews with different people.

It is important for us, as a team, to know the people who will work alongside us. We'll spend so much time with each other that we want to guarantee we have an environment where we can all be ourselves, share our ideas and concerns, make mistakes and learn from them (with no judgmental comments), and together contribute to something bigger than us. That's why in the interviews we involve the people who will directly work with the new joiner. It is not just about us getting to know the person, it's also about giving the person the opportunity to get to know us in order to understand if we are a good fit and if the person would like to work with us.

The recruitment process
The recruitment process was set and in early March we welcomed another colleague.
When we are all in the same space, it's easy to follow-up on new colleagues, understand if they feel welcome, and ensure that they feel part of the team.

We welcomed them face-to-face and after a morning coffee, the team showed them the office. The integration was an ongoing process without much formality because we trust our teams to organize themselves. In other words, they were "in-charge" of their new colleague. It was a very organic process: coffee breaks guarantee social engagement and the team organization guaranteed the rest; it was all covered.

And then, COVID-19 came around, surprising us all and turning our "normal" 180 degrees.

Recruitment in remote conditions
As it's crucial for us that our team feels safe and secure, we all began to work remotely as of the 12th of March.

After a pause to overcome all the logistical issues regarding remote work (ensuring everyone had everything they needed to work remotely), it was time to get back to business as usual and follow-up on the open job positions we had at the time. Though, it didn't take us long to realize that working remotely would become the "new normal." So, just as with any other challenge that comes our way, we rolled up our sleeves and, empowered by that rush of adrenaline, we got to work.

The recruitment process itself was not difficult to adapt to a remote model. The face-to-face interviews started to take place remotely. To make them easy for everyone, we conducted some training on remote communication best practices. We had the theory, which we quickly put into practice, but we got to a point where we realized that one of the greatest difficulties in this process would be: how to share our culture, our DNA, which is so important to us, during a 60-minute (more or less) conversation? How would we be able to do it without having an amazing coffee in our cozy kitchen?

We had to find a way of sharing our easy-going way and that amazing "coffee smell" with those who wanted to join the Abyssal team.

After a couple of interviews, some research and several brainstorming sessions, we went back to our essence: there's no need to reinvent the wheel. We came to the conclusion that the best way to share our DNA was: firstly, explain to the candidates the importance of it and secondly, let them know that during the interview we would have an informal chat to talk about anything but skills.

We explained to each one of the candidates the importance for us of getting to know the person behind the CV and to show the candidate the people behind the interview, so we ask them to be prepared because some questions could sound a bit odd. And so, we've been having some fun conversations and we've met great people since then.

"During the recruiting process, the company presented their business and activities in order for me to understand how my skills and experience would be a value for the team. This way of recruiting impressed me since, in contrast with other companies, I too had a saying in the matter." Pedro Rocha
Once the first challenge was overcome, it was time to welcome the first person on a fully remote onboarding process. And that esteemed honor would be laid on Carolina: our (very enthusiastic) guinea pig. ☺️

"I was nervous about joining a new company, but especially a new position that involves contact and idea exchange with different teams. Being at home I thought it would be a tricky challenge to overcome. I could not be more wrong!" Carolina Rodrigues
The new onboarding process
We could no longer count on Carolina sitting next to a teammate who would help clarify the basic doubts which arise in the early days and who has a crucial role in the integration of our new coworker. It wouldn't be possible to invite Carolina for lunch, nor to a coffee. How could we replace those informal moments where people talk about everything but work and where people connect and establish that amazing feeling of trust that allows us to have successful and meaningful relations?

"Having a good relationship with the people we work with is very important; we spend most of the day working with other people, therefore being at ease and having a nice environment is essential. At first, I was concerned that I would only speak to most of my new colleagues when this pandemic situation was over, but fortunately, besides being warmly welcomed into the team, there was a general concern with our well-being." Pedro Rocha
So now what? How can we "replace" the person next to you, the person who shares jokes to break the ice and helps new people not feel like an outsider?

After some workshops and interesting readings, we decided to adopt the "buddy" figure.

From that moment on all new joiners would have a buddy. The buddy is in charge of meeting regularly with the new joiner and "bringing" them to our Discord rooms. A pretty nifty solution to maintain contact between team members and to try to recreate the office space environment.

"The buddy system was an important and huge help in this completely different onboarding process along with the wrap-up at the end of each day with Isabel (our People Specialist) where I could expose all my doubts and give feedback on how the day had gone." Carolina Rodrigues.
"Assigning a buddy to guide me through the onboarding process was very helpful too. I got to better understand the project, different tools, best practices, and rules that the team is using and following. Every single detail was taken care of to make the beginning of this new adventure easier and more pleasant." Marouen Abdi
We also created an agenda to ensure that at least during the first week the new joiners know exactly who will be there with them at all times and what they will be doing (online training, meetings with the teams, breaks, and so on) so as to that nobody will get "lost".

On the first day, we start with a welcoming meeting with the management team, the team leader, and the buddy.
Then, the new joiner goes through the Welcome Book, with me, to get that very first piece of information regarding Abyssal's history; company culture and values; as well as salary and perks. In the afternoon they have some reading on company guidelines and a short wrap-up with the buddy closes the day.

The following days of the first week are spent on short team meetings (to get to know everyone and the purpose of each team); e-learning (specific training on communication best practices); training with specific team members (to better understand our products, our tools, and so on); and some meetings with their team leader to go through the job description, the role's goals, and the team's goals.

"My first week was not boring or dull at all. All my work time hours were scheduled with activities and meetings which I felt was perfect for me to be better integrated in the team. I have never been so well integrated in a company before, even before COVID-19." Rita Sousa
"Abyssal was ready and well prepared to help me to face this new challenge. An onboarding plan was put in place, introducing the company's history, culture, and members [now that I come to think of it, it'd better to say family, as that's what I felt after meeting and getting to know everyone]." Marouen Abdi
Making sure that our new colleagues would get to know the whole team was crucial for us. When you're physically at an office – it's really quite easy to do. You walk around, see the faces, and engage in some water cooler talk. However, the current situation, where we all need to work remotely, changed that status quo a bit. And naturally, we had to come up with a solution to make sure that new people felt welcome and got to meet everyone. Our solution: team dailies, Let's Share (a fortnightly event where we update the teams on ongoing projects and other newsworthy tidbits), and "Let's Conbiber" and "Let's Conbiber" (a betacism phenomenon in the northern Portuguese on the word "conviver", which means to socialize) where the entire company gets together and makes informal chit chat about everything and anything, plays games, and so on, has been a great hit with everyone. Additionally, to simulate the office environment, we set up a Discord server where people can join rooms, have a chat with someone (just like they would when they were getting a coffee), or just want to listen to some white noise.

"The meetings and Let's Conbiber are done in an informal environment which helped us to fit in and make us feel more like part of the team. I consider these "gatherings" extremely important and these were what surprised me the most." Pedro Rocha
"By choosing to use Discord, I can interact with my team almost as though we are in the same office. Or by organizing company-wide weekly meetings using Zoom or Google Meets, where we just talk and play or share our team's latest work, I never feel left behind." Matilde Freilão
"The team building activities are very thoughtful stress-release strategies. The morning coffee breaks, Let's Conbiber, and Let's Share are a good opportunity to get to know others and have a greater communication with the team in a non-work related atmosphere." Marouen Abdi
"The team building activities and the "morning coffee" video calls allowed me to bond with everyone and now, after eight months, I could not be happier to be part of this company." Carolina Rodrigues
"Being with my team through voice chats the entire day not only simulates the real office environment but it also allows us to discuss and help each other." Vítor Magalhães
We also felt the need to adapt the Welcome Book to this new normal. We went through all the information we would normally orally share when we were at the office and added it to the manual – making sure that was as welcoming as possible.

Since June 2020, six new colleagues have joined our team and experienced a 100% remote onboarding.

Today, looking back at everything we've built and all the challenges we've overcome, I believe it was a job well done to all. And the feedback we have been receiving couldn't make us feel happier about what we, as a team, have accomplished together.

"My first day matched the day everyone returned from Christmas vacation and we had a session to talk about our Christmas Day and New Year's Eve. It almost felt like I had just been away on vacation and had come back to talk to my colleagues. I believe this couldn't better sum up how welcome I felt." Rita Sousa
"Everyone was incredibly welcoming, which made the onboarding process a very smooth and enjoyable experience, in spite of the nervousness I felt during the time since I was starting my first job." Vítor Magalhães
"I was expecting cordiality, but to my surprise, I was treated with friendliness. I was introduced to everyone at the company and the team and was told, from day one, that I could ask anyone about anything that was troubling me about work." Matilde Freilão
"My experience with Abyssal's recruiting and onboarding processes completely surpassed my expectations and for once, it made this pandemic situation feel as a secondary aspect. Looking at the past few months, I am sure I made the right decision and I could not be happier to have made it and become part of this family." Pedro Rocha
Today, despite the physical distance, we are all more involved in receiving new colleagues and, as a result, more aware of the responsibility of welcoming a person who trusts us to guide them through one of the most challenging stages in their professional life: starting to work in a new company. Though, we make the extra effort to make sure they feel welcome and appreciated.

Now, having smoothly overcome the onboarding process conundrum, we can't wait to welcome them in person at one of our famous barbecues so we satisfy Matilde's curiosity:

"I still can't wait to move to the office and finally (as we joke in my team) sea how tall or short everyone is!"
A special thanks to the new joiners for their collaboration,

Carolina Rodrigues | Business Analyst
Marouen Abdi | Front-End Developer
Matilde Freilão | Software Developer
Pedro Rocha | AI Developer
Rita Sousa | Marketing Specialist
Vítor Magalhães | Software Developer