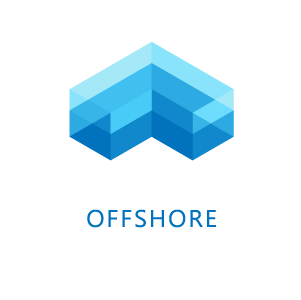 Navigate. Capture. Report.
Abyssal Offshore is a digital toolkit to help crews perform with safety and efficiency.
Quickly install this kit in the underwater vehicle control room and access tons of great features, from digital video recording, video library and super-fast overlay to 3D navigation and augmented reality.
It additionally allows for data capture, reporting and audit capabilities during each dive.
Field proven to increase navigation efficiency up to 40%.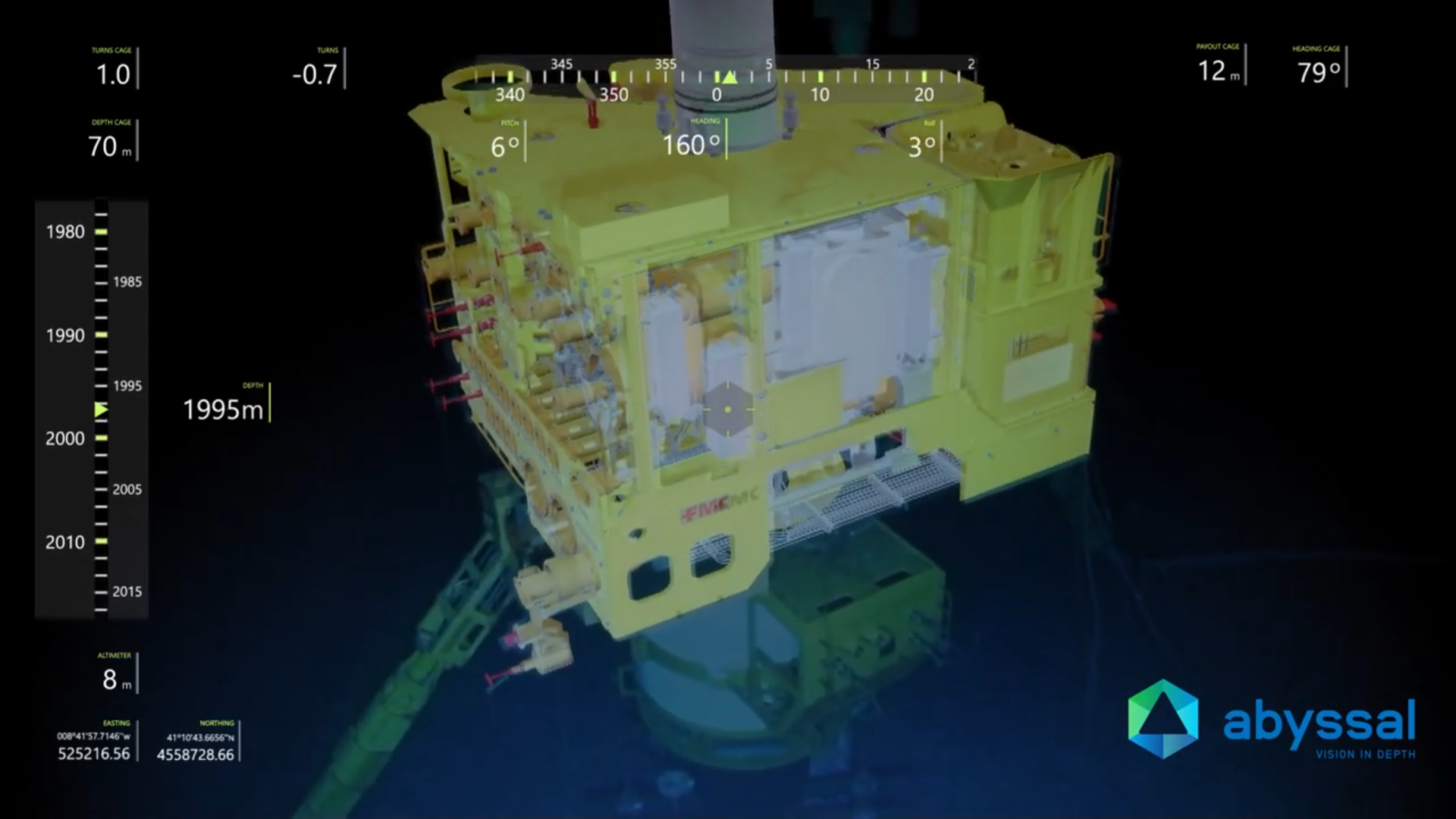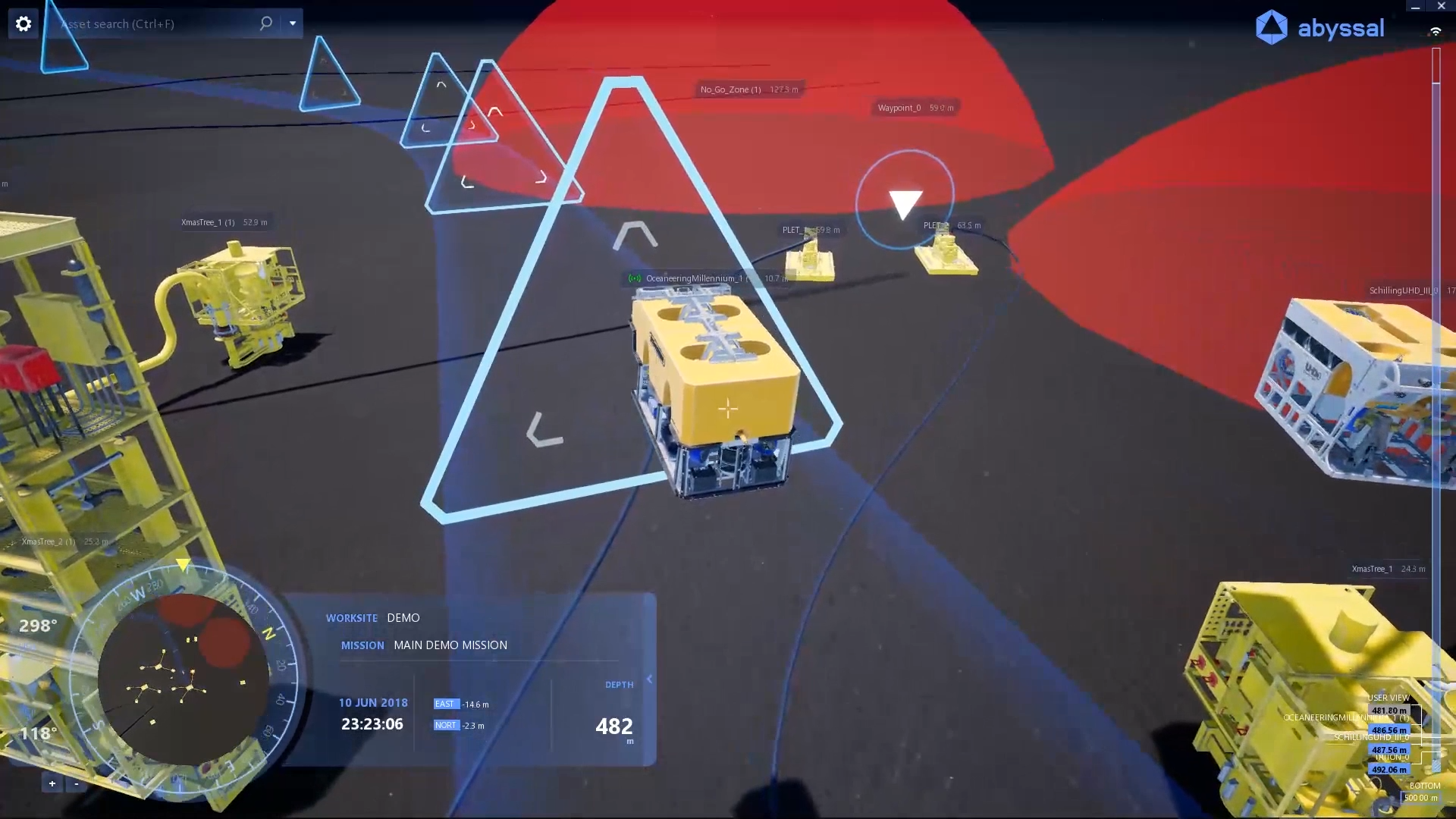 Real Time 3D Visualization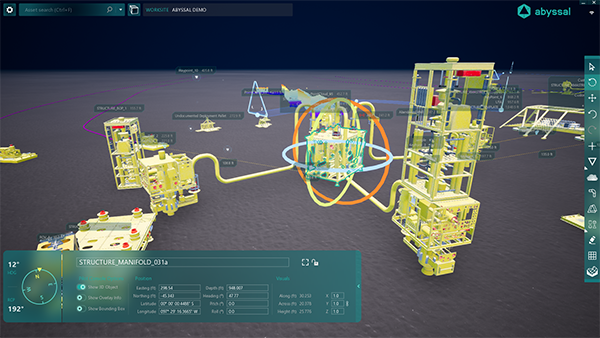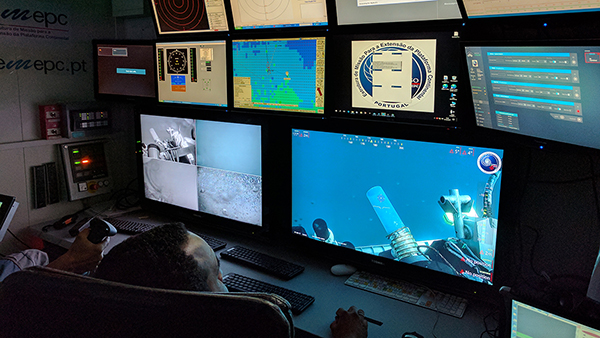 OVERLAY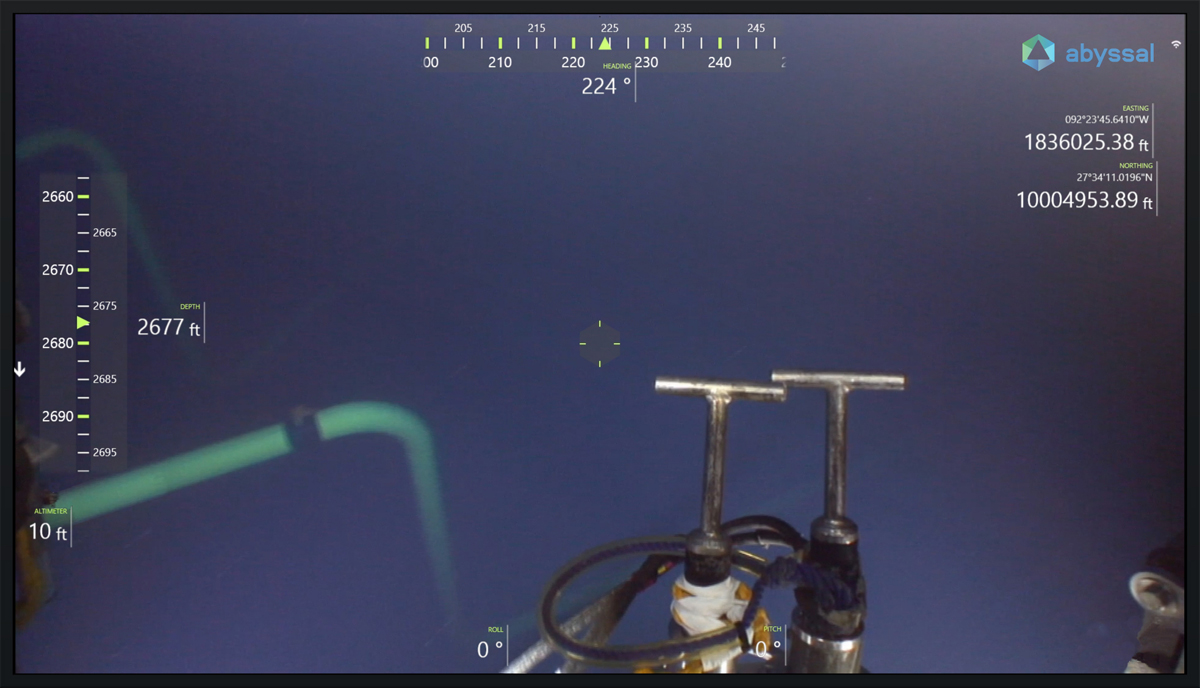 Camera Viewer
Video display in extreme low-latency with real-time telemetry overlay.
Video formats up to 4K @60fps.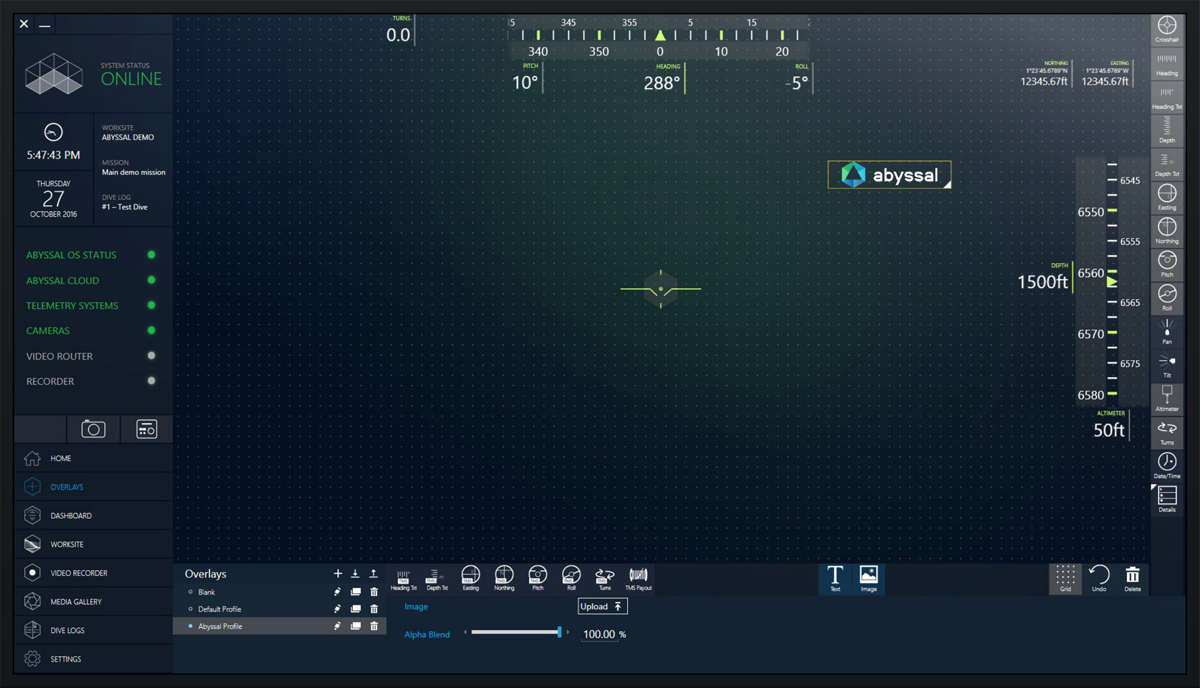 Overlay Profiles
Scalable, simple and intuitive real-time interface.
Drag and drop capability from a library of sensor data.
Manage multiple overlay profiles, with import export capability.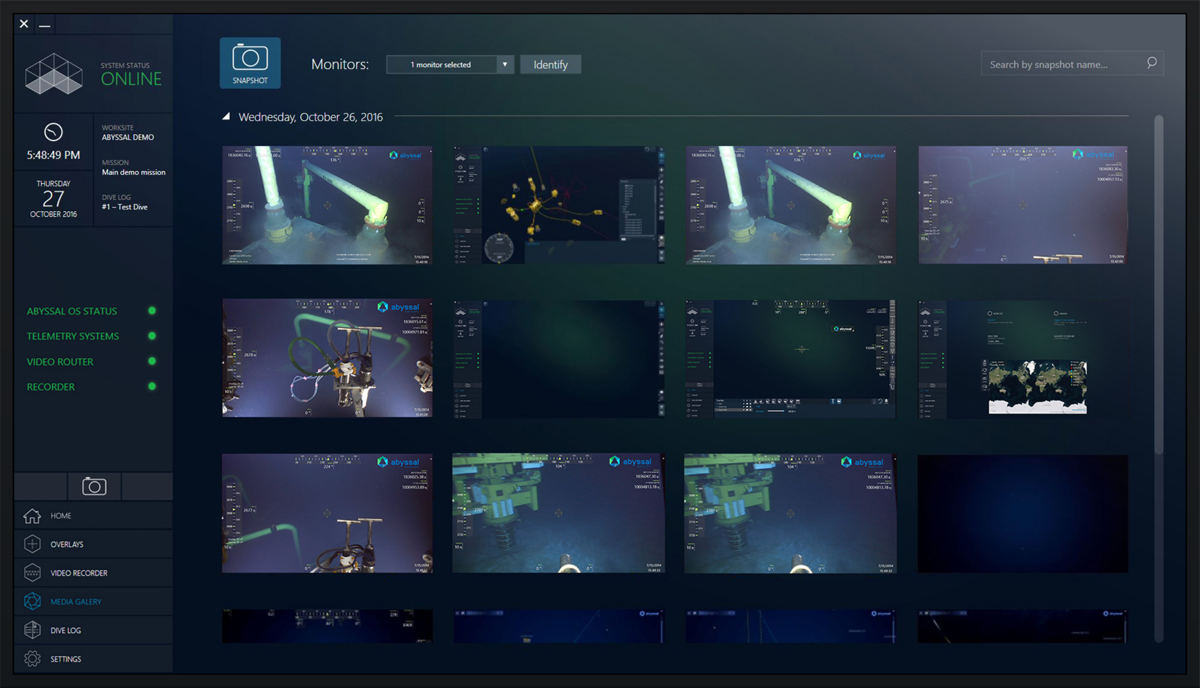 Media Gallery
Screenshot management solution for enhanced reporting capabilities.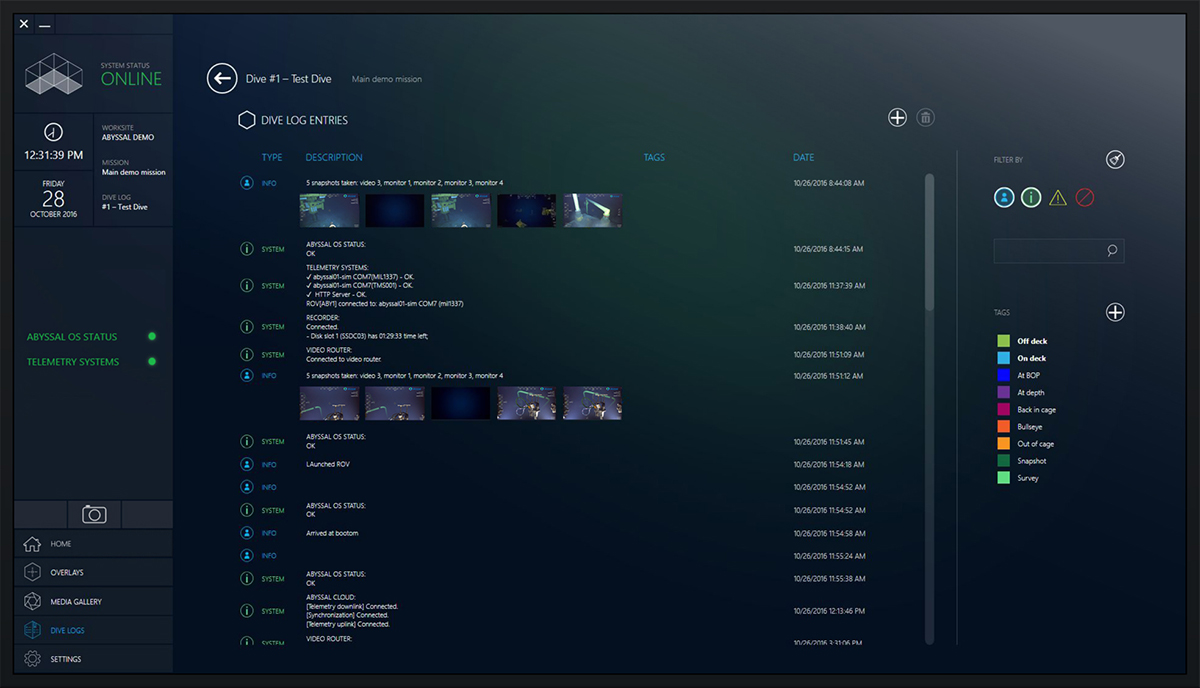 Dive Log
Digital dive log solution with automated reporting capabilities.
Automatically add screenshots and alarms.
Export the report as a portable HTML5 page and review it in any web browser.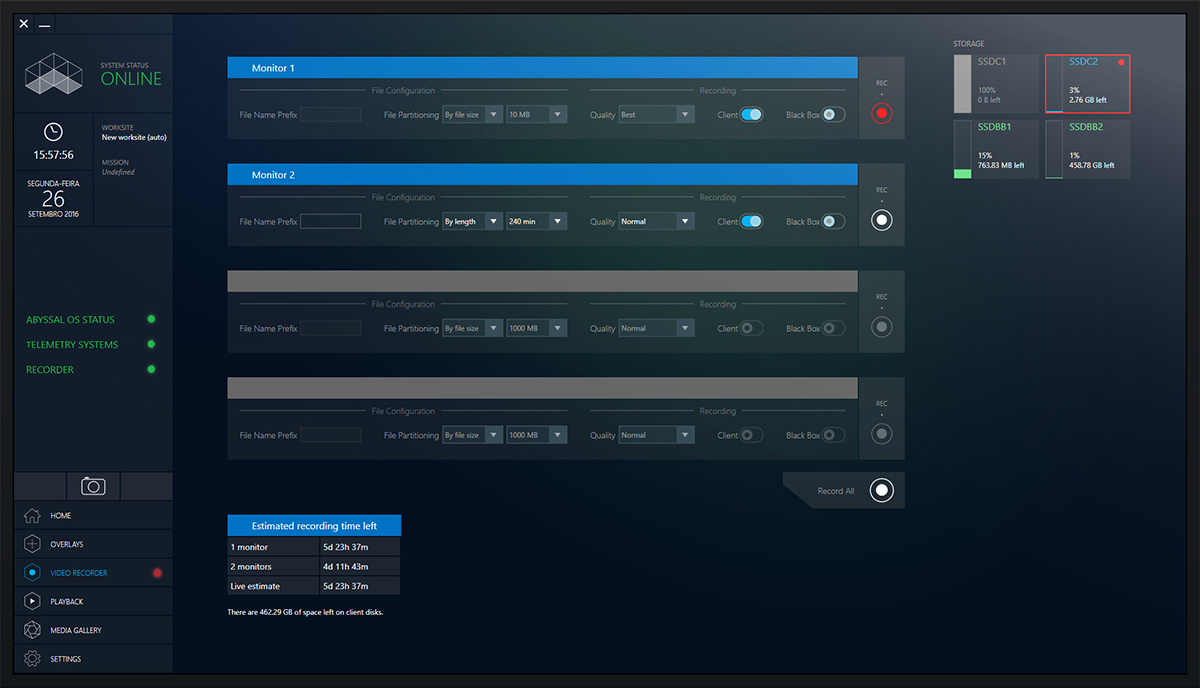 Digital Video Recorder
DVR allows you to record up to 4 monitors, directly into the connected SSD Disks.
Record up to 5 months of continuous mission video, and 2 months of black box video.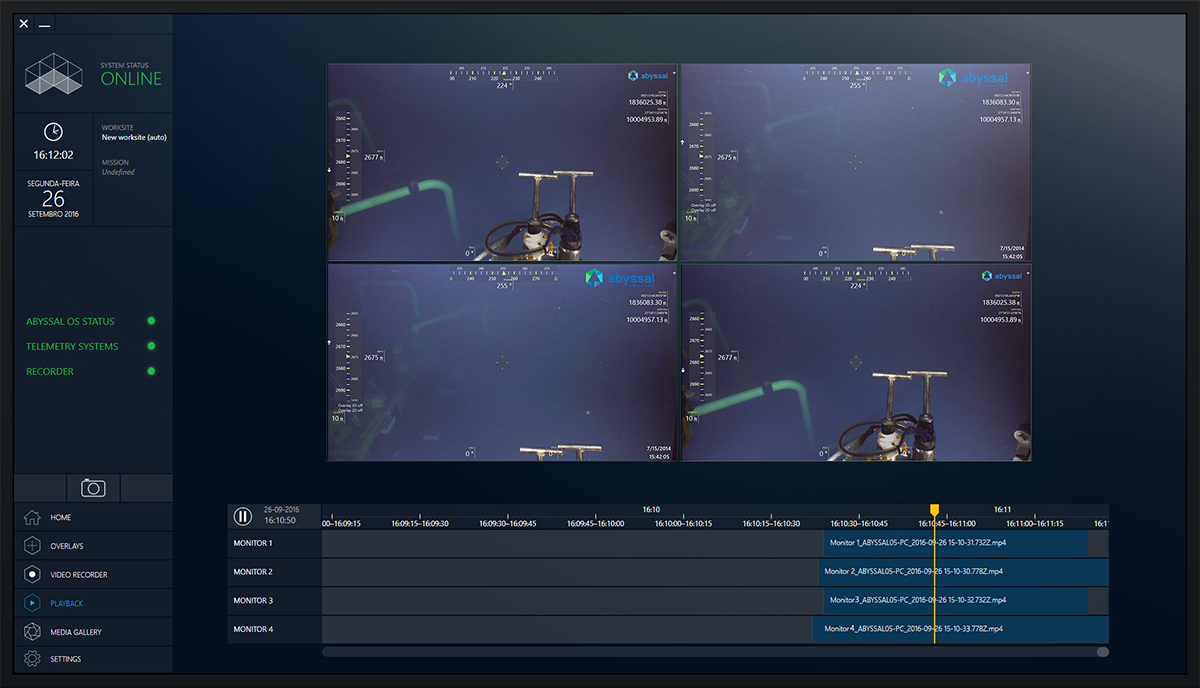 Playback
Infinite timeline functionality to quickly find the video clip and play it simultaneously with other cameras.
FIELD EDITOR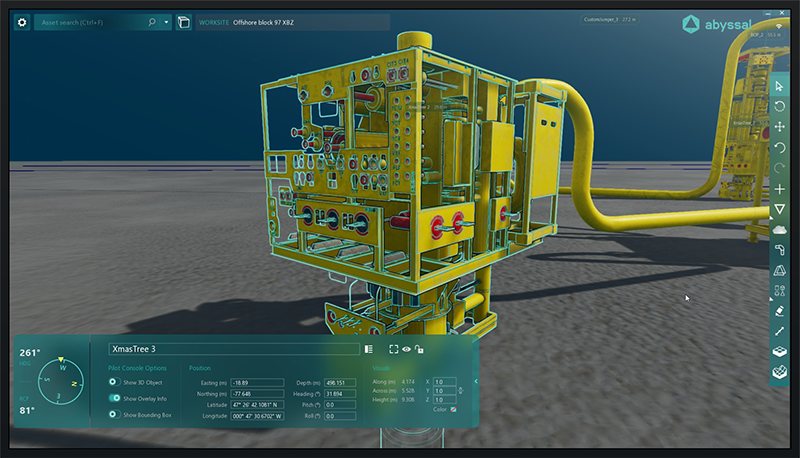 Asset Visualization
Provides an immersive experience for navigating, interpreting, analyzing and extracting information from the 3D asset model.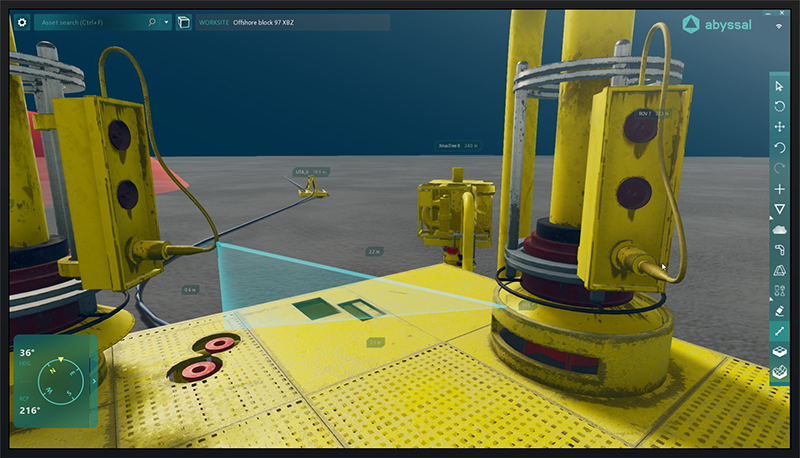 Field Measurements
Modelling the system in true 3D, using the bathymetry model to position assets in vertical space, will enable precise point-to-point measurements of critical outer dimensions and interfaces to be performed.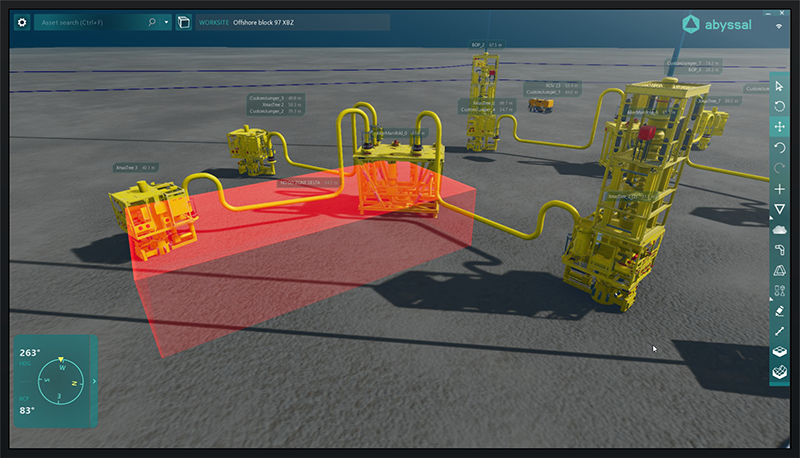 Risk and Anomaly Visualization
During the design and installation phases, Abyssal Designer will provide the team with improved risk perception, and the ability to annotate color coded risks within the field. This can be added dynamically or based on the FLRA or other risk assessment.
AUGMENTED REALITY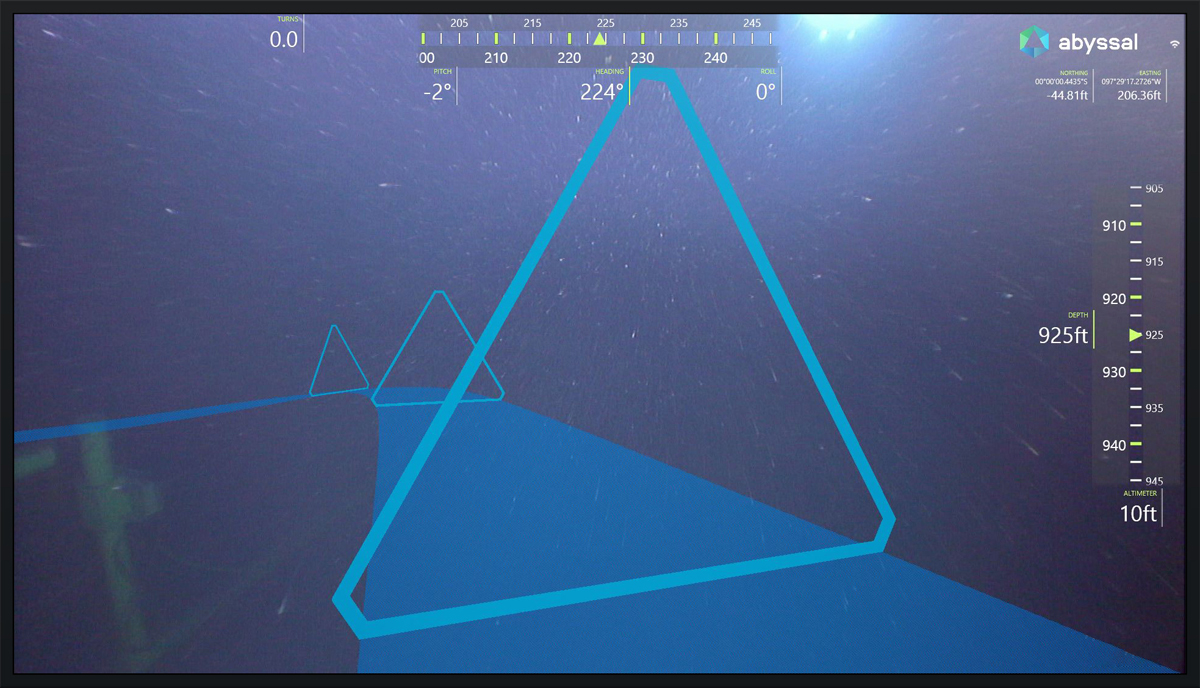 Flight Paths
Abyssal Offshore allows you to create flight paths, extremely useful in high currents and low visibility conditions to indicate hazard free corridors increasing efficiency and safety.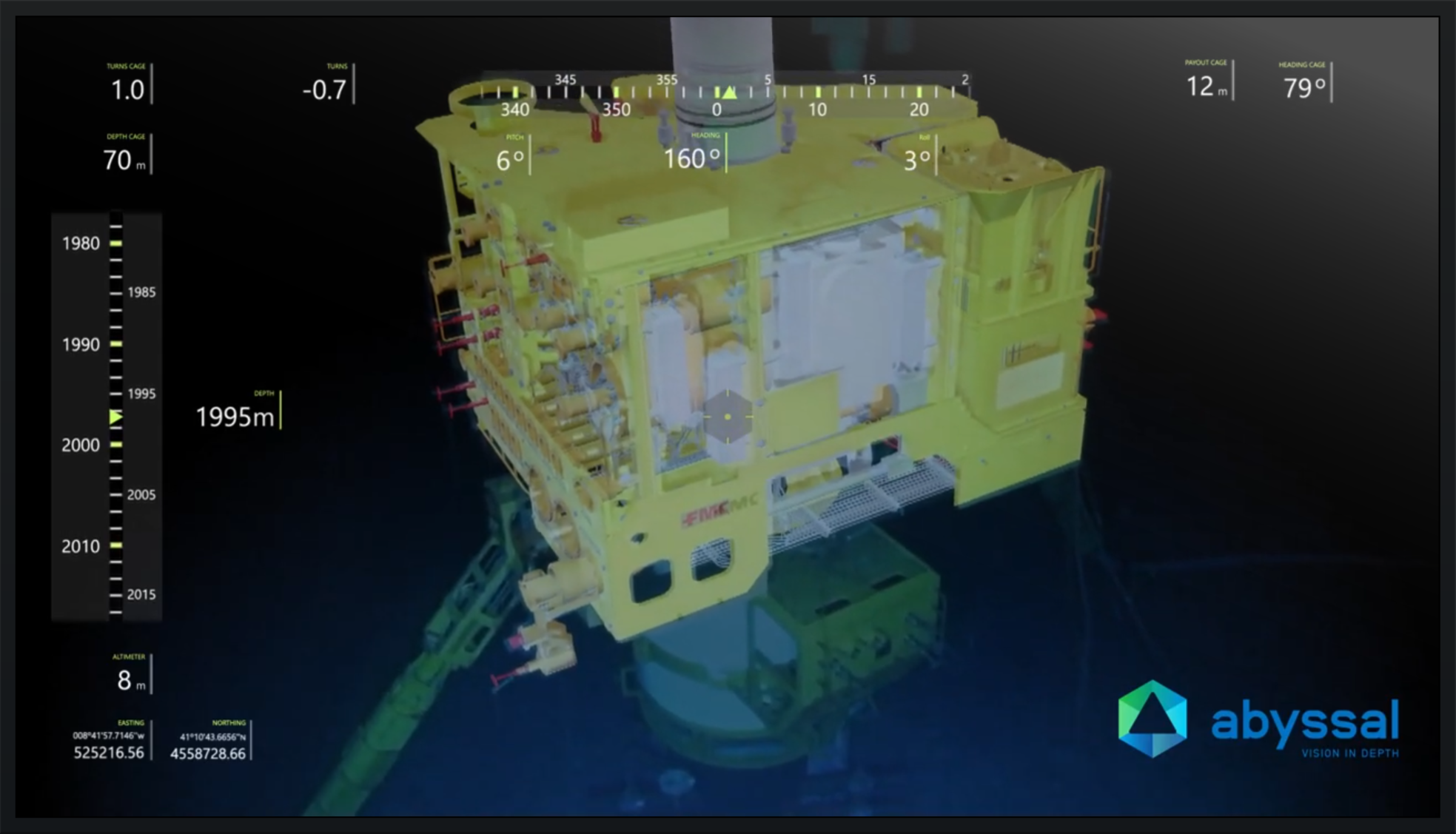 3D Overlay
Superimpose 3D objects on top of the video in order to provide a complete spatial awareness of the operations environment, even in harshest conditions, reducing operational downtime.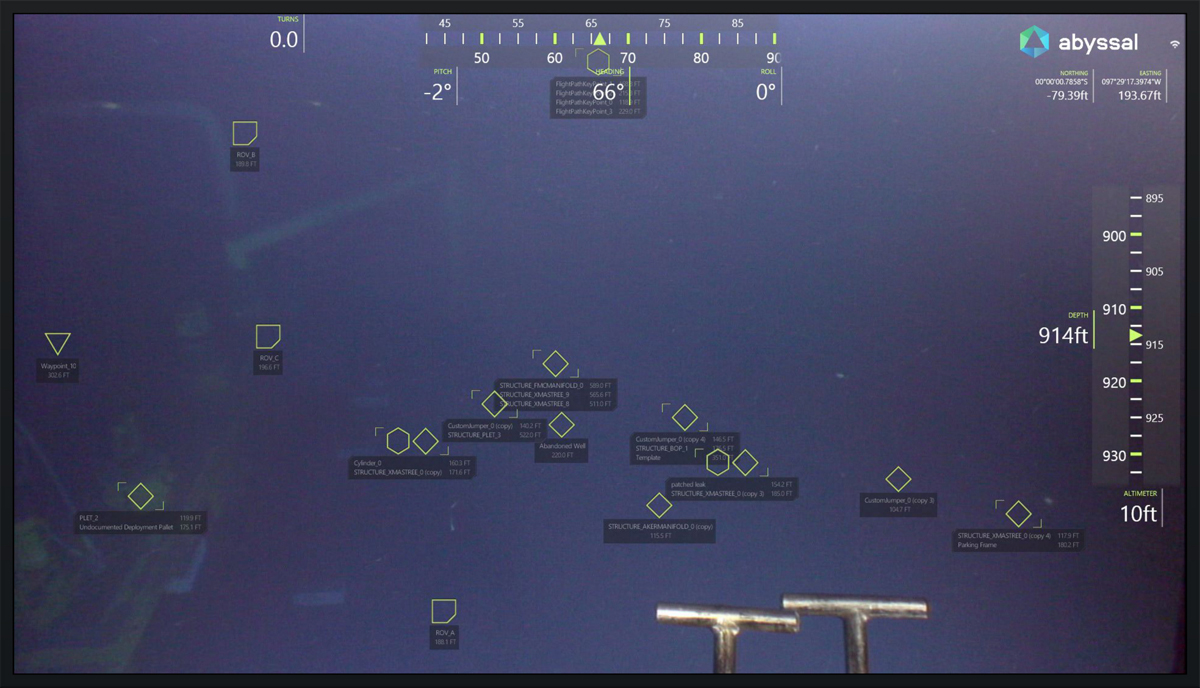 Object Target Recognition
Similar to a jet fighter's HUD, select and identify targets to efficiently follow the correct path to the next asset on the mission's procedure list.
3D VIEWER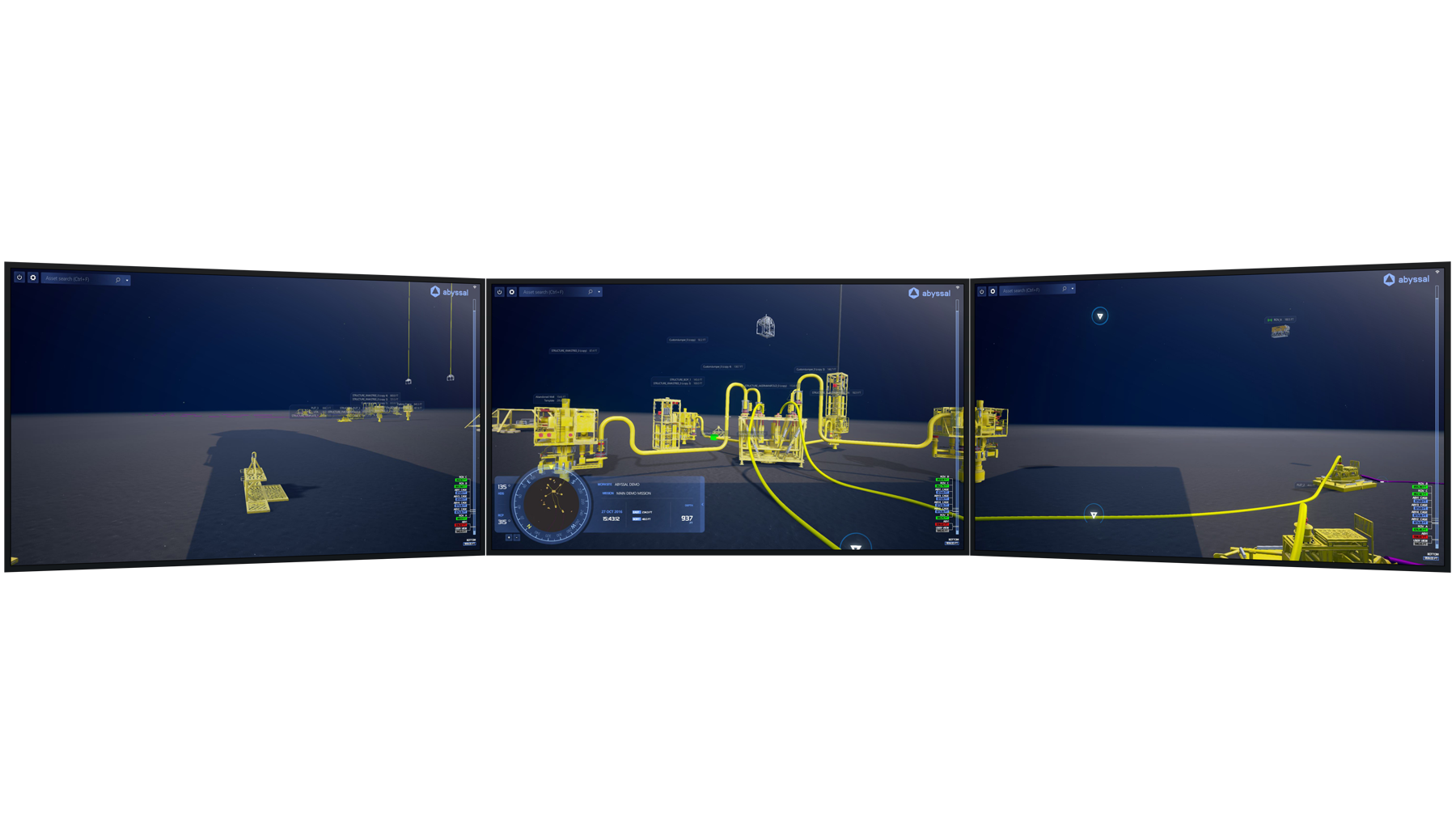 270º Field of View
Current cameras only offer as much as a 90º FOV. With Abyssal's advanced technology, pilots are able to navigate with a real time extended FOV of at least 270º, increasing safety and efficiency of ROV operations.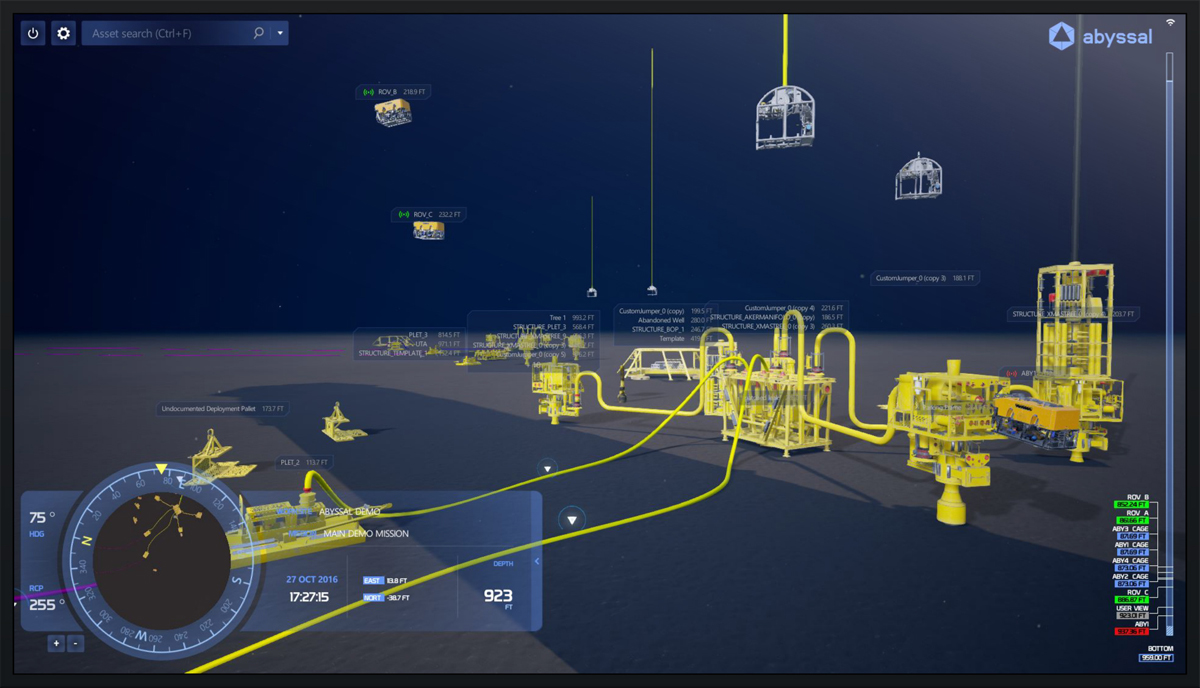 SIMOPS - Multiple Tracking of Assets
Abyssal Platform enables you to track multiple live assets at an updated rate of up to 30ms. It can process large quantities of data such as telemetry, positioning and video of all the deployed assets, including ROVs, AUVs, TMSs, Vessels, and all of the subsea structures.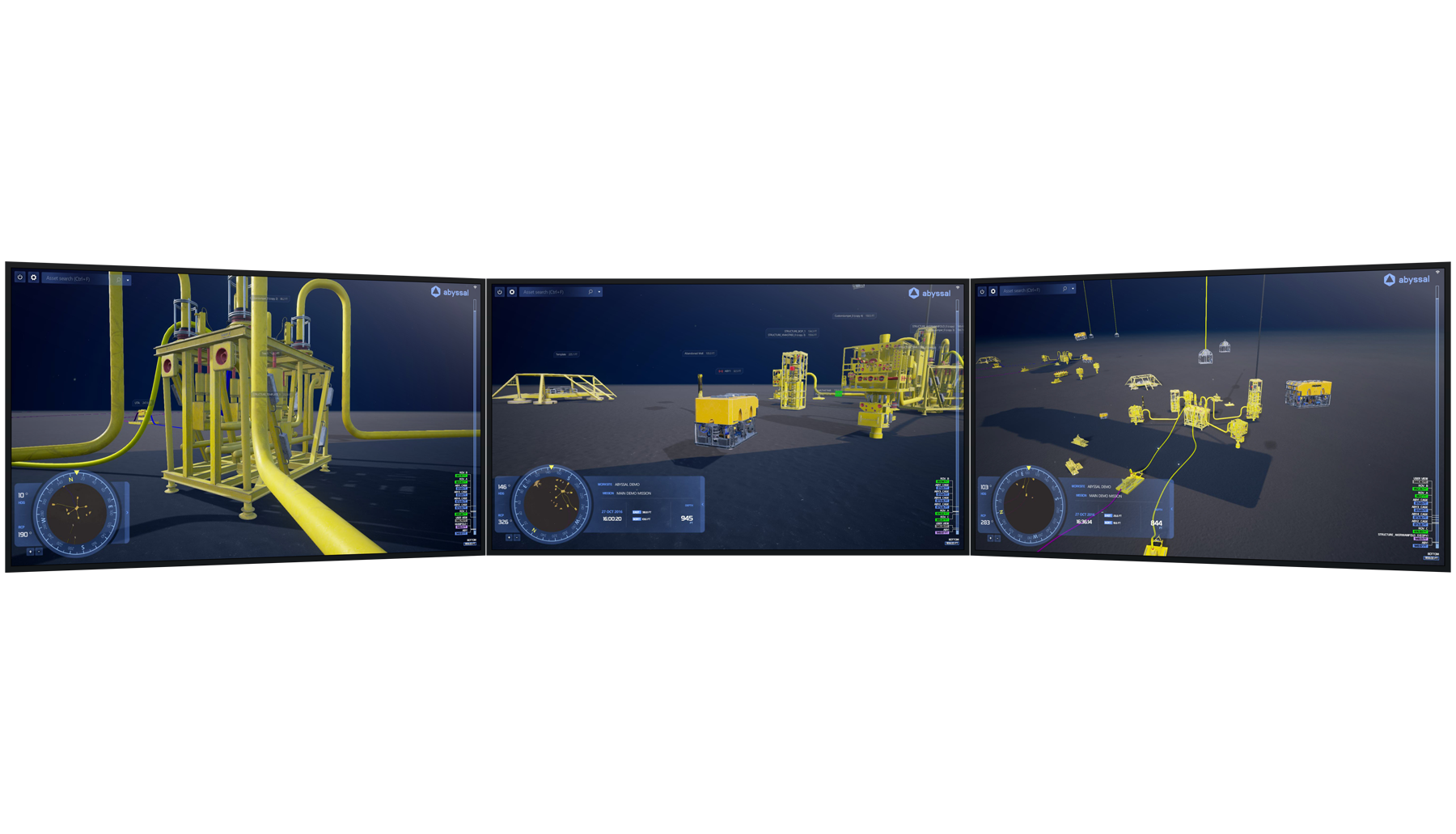 Multiple Camera Views
The flexibility of the Abyssal Platform provides you full live visualization control of your subsea operations with three types of camera views: A fixed camera, a follow camera and a free camera (birds-eye view).