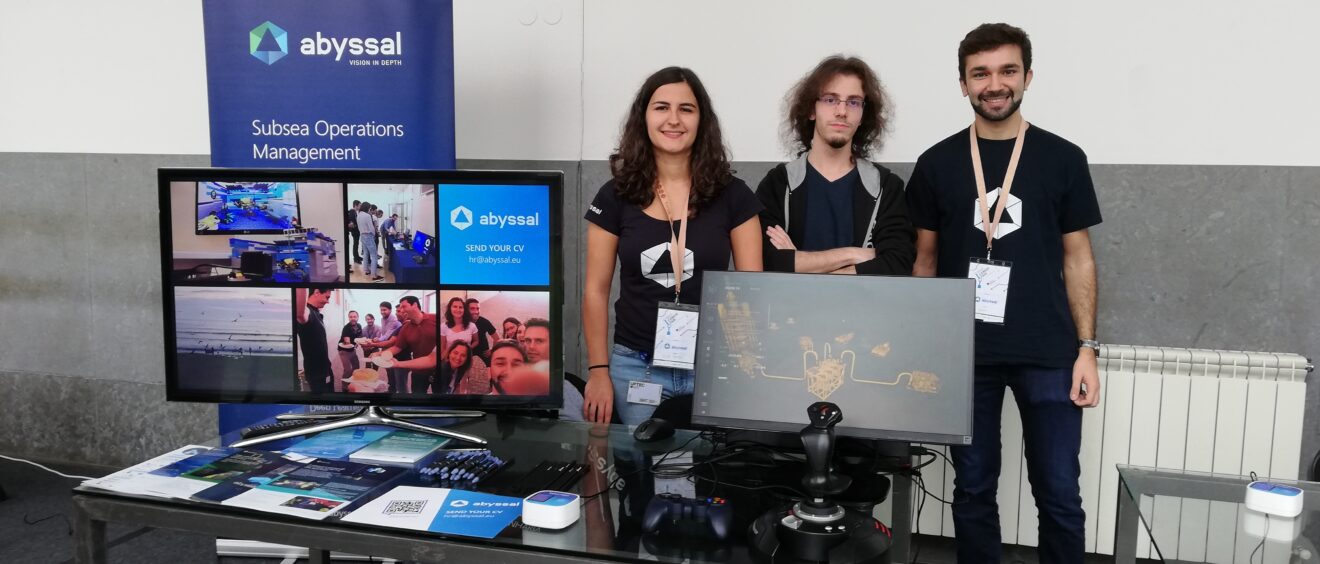 Abyssal at the FEUP Career Fair 2019
Last week, Abyssal was at the FEUP Career Fair 2019 to share the opportunities we have for Internships and Master programs, as well as for a successful Career at Abyssal. We had the change to meet so many enthusiastic young talents. It was truly an amazing opportunity for networking.
To those that came to talk to us, thanks for visiting our stand!
We hope you enjoyed knowing about Abyssal, our current projects and products. Hereby you can find a quick summary of our job openings and opportunities for students:
We work in cutting-edge technology for the subsea industry: augmented reality, cloud & web development, computer graphics, physics & mechanics, computer vision and artificial intelligence. Check our website for more details!
You can check our job openings at our Careers page. We're looking for web/front-end developers, generalists or specialized developers and 3D technical artists who would like to work with Unreal Engine;
We regularly have people doing internships at Abyssal, whether they are still students or not. If you're planning to go for an internship and your interests fit our expertise areas, we encourage you to tell us your motivation. Send us an e-mail to

[email protected]

;
We are happy to have students working on real-world problems with us. You can work on your Master Thesis at Abyssal, on research topics such as computer graphics, artificial intelligence, computer vision or others. We can easily establish partnerships with Portuguese universities and professors, so don't hesitate to contact us if you would like to join our team!
We're keen on working close to students, researchers and academy. If you belong to any student group/association, feel free to drop us a message about your next event:

[email protected]

. As we're located at the UPTEC Polo do Mar, right next to the beach, so feel free to come and visit 😉
We're posting new opportunities every week, so make sure to follow us on Linkedin & Twitter, and always stay up-to-date!
Keep in touch… And never forget to be awesome 😀