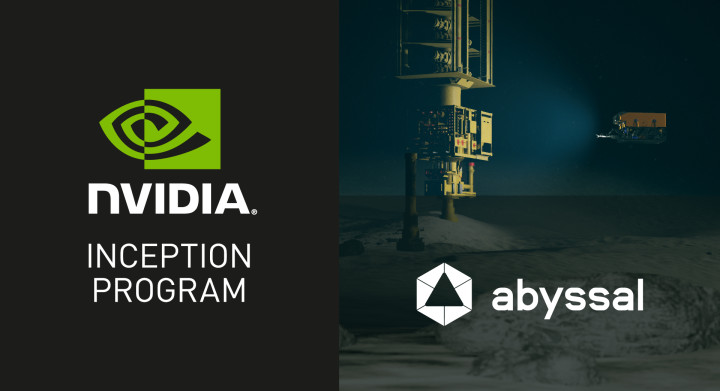 Porto, Portugal — February 15, 2018 — Abyssal announced today it has joined the NVIDIA Inception Program, which is designed to nurture startups revolutionizing industries with advancements in AI and data sciences.

Abyssal S.A develops integrated Subsea Operating Solutions for Remotely Operated Vehicles (ROVs) in the Oil & Gas, Marine Renewables and Underwater Mining industries. Abyssal platform and products rely on both 3D visualization for real-time monitoring and accurate navigation and positioning data, increasing overall visibility and spatial awareness of the entire subsea environment.

Abyssal's purpose is to continuously develop accurate and intuitive solutions focused on increasing Vision in Depth to enable its customers to access the most remote and inaccessible subsea locations.

Abyssal has been working closely with some of the major companies within the Oil & Gas supply chain which allowed the company to develop its products by responding to the industry's real needs. By entering the NVIDIA Inception program, Abyssal expects to leverage NVIDIA´s expertise, massive network of deep learning experts and thought leaders, state-of-the-art GPU technology and benefit from the collaborations with NVIDIA's Deep Learning Institute in order to bring Artificial Intelligence to the subsea operations.

"This collaboration is completely aligned with our research and development plan which has a strong focus on automation. We will leverage this privileged relationship by exploring the full potential of NVIDIA's GPUs to deliver our customers with the most innovative products that will bring them valuable benefits in terms of efficiency and safety", says Manuel Parente CTO of Abyssal.

"We are excited to be a part of the NVIDIA's Inception program. Being able to have access to NVIDIA's latest GPU accelerators as well as its global AI and deep learning ecosystem is for us an additional motivation to be in the forefront of technology for subsea operations", says Rafael Simão CEO of Abyssal.

NVIDIA's Inception program is a virtual accelerator program that helps startups during critical stages of product development, prototyping and deployment. Every Inception member gets a custom set of ongoing benefits, from hardware grants and marketing support to training with deep learning experts.
About Abyssal
Abyssal S.A. develops integrated Subsea Operating Solutions for Remotely Operated Vehicles (ROVs) in the Oil & Gas, Marine Renewables and Underwater Mining industries.
The company's unique platform works as a Digital Collaboration tool enhanced with an ecosystem of products that provide significant benefits in every phase of the project lifecycle – from design, construction, operation and decommissioning.
A very important part of the company's product ecosystem is the Abyssal OS Offshore: an advanced real-time 3D visualization and operation management system to support pilots and supervisors to perform simultaneous operations in complex subsea environments, increasing safety and efficiency.
Find more information about the complete ecosystem of products and how Abyssal brings Vision in Depth to its customers at www.abyssal.eu.
Contact about this news
João Ferreira, Head of Global Business Development
Abyssal S.A.
e-mail: [email protected]
phone: +351 220 120 768